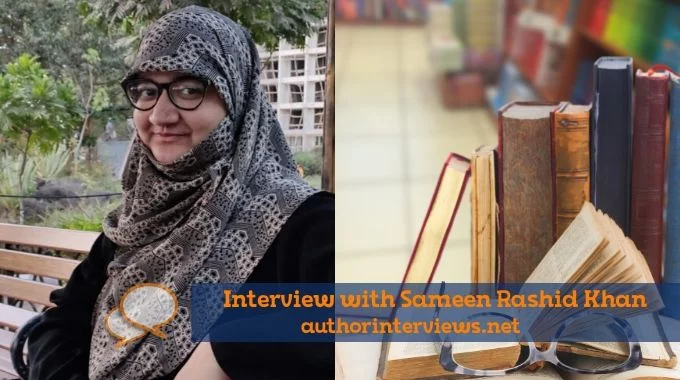 Sameen Rashid Khan is an author, a poet and also a practising psychological counsellor. Until now, she has already written three books – a novel, a poetry collection and also a collection of short stories. Her novel was based on suicide and its aftermath on a growing person, and it got her attention and reputation among the readers. He poetry collection is largely about herself and her experiences of various kinds on different levels in life. Likewise, her short story collection may be inspired by real events in her life but the fictionalised form of short stories are prepared in such a way that the short stories become a riddle to the readers. You can read more about her and her writings in this article: Sameen Rashid Khan. You can read her interview below in which she talks about various things.
Alok Mishra: Sameen, you have been a versatile character when it comes to your writings. How would you introduce yourself to the readers? And your writing traits as well.
Sameen Rashid Khan: I am only human, so I have a lot of curiosity in me that makes me experiment. That explains the versatile writings. For readers, I'm just another reader who's trying to write and put out there what I would love to read.
Alok Mishra: Poetry is a different genre and it has lagged behind in recent years. Writers are turning more and more to novel writing. In such times, how would you justify your choice of writing as well as publishing poetry?
Sameen Rashid Khan: To be honest, I feel poetry is very underrated. I myself didn't understand its beauty until I started writing. There is a certain charm in expressing through brevity. As for the times, I believe literature in any form never runs out of style.
Alok Mishra: Your very first publication talks about the trauma that one has to go through if a loved one commits suicide. This is a very serious subject. Can you please tell in brief about your first book and why did you decide to write it?
Sameen Rashid Khan: The rate of suicide has been rapidly increasing among adolescents. My idea was to put out there the after-effects of suicide so that people contemplating it know what things would look like after they are gone! Suicide is not the end of the story, it is the beginning of a series of unpleasant stories.
Alok Mishra: You have also written a collection of short stories, A for Ambiguity. The blurb tells that it's a collection of 5 ambiguous short stories. Can you please let the readers know more about this, Sameen?
Sameen Rashid Khan: A for Ambiguity is more like a challenge for people to make sense of what they've read. It is a series of mind-boggling short stories that will leave the reader wondering what the writer wants to say. So readers, go ahead and take the challenge. Don't worry, you can come to any conclusion you feel like towards the end of each story.

Alok: You are a counsellor, Sameen and you come from an educational background with a major in psychology. Do you think it helps you in writing, developing your characters and finalising your plots?
Sameen: Of course, it does! My background in psychology contributes largely to the ease with which I research and finalize my characters and plots. It also affects the way I read which in turn contributes to the way I write.
Alok: There are a lot of speculations about writing and writers. People often talk about certain writing hours, writing rush and many other things. So, how often do you write? Is there any certain goal to achieve per day on which you work? Tell me about your writing schedule, Sameen.
Sameen: As I said earlier, I'm just human. I don't have a writing schedule that I can stick to, and honestly, I don't set goals for myself. I just make it a point to write every day, be it a mere line, a single paragraph or an entire chapter!
Alok: Do you think that there is a difference in viewing a particular work as a writer and as a reader? What has been your experience before and after becoming an author?
Sameen: There is a huge difference in viewing a particular work as a writer and as a reader. Now that I've forayed into writing, my experience has been phenomenal. Understanding the nuances of writing, the writing style and character-plot development makes the reading experience a lot more interesting. Also, I now have a lot more empathy and respect towards writers.
Alok: You have already written three books, Sameen. Are there any other books about to be released by you? What are you working on right now? And how much do you think the response from the readers is important for the writers?
Sameen: There's a lot more to come from my side! Currently, I'm in the process of researching for my next book which will tell the stories of females living in Indian rehabilitation centres.
As for the response from readers, I have to repeat that even as writers we're only human beings. The responses serve as a motivation to improve and continue giving our best as writers. It also gives the satisfaction that our intended messages are reaching out to people.
Alok: The world is going through a tough phase now. We are all home and finding various ways to spend our time. Would you like to suggest to our readers how can they spend their time reading your books? What's special about your published works?
Sameen: Yes. Reading is an exercise for the mind and staying mentally healthy during this phase is as important as staying physically fit. Readers can pick up A for Ambiguity when they want to have fun or they can read the Aftermath for some serious insights, and when they want to vent out their anxiety or depression and find the hope they can pick up Mostly Me. So, my works can be read throughout this phase in different moods.
Alok: At last, many thanks for your time and answering these questions, Sameen! I wish you the best for your upcoming and the presently published works!
Sameen: Thank you very much for giving me this opportunity.