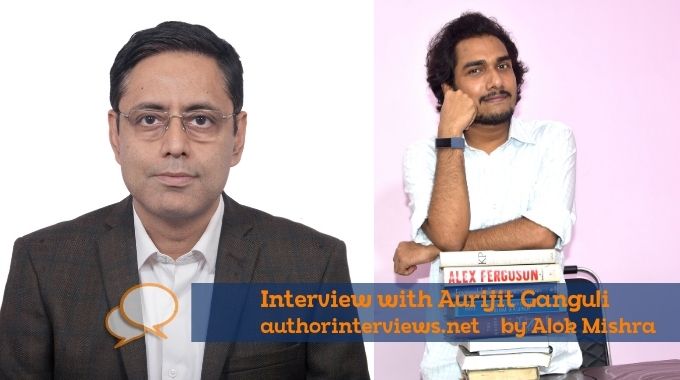 Aurijit Ganguli is a novelist who hails originally from Bengal, a state in India known for its rich cultural and literary heritage. His debut novel is The Shambala Sutras, a novel based on history and mystery around Shambala, a mythical kingdom. Here is an interview with the novelist by Alok Mishra, the founder of Author Interviews.
Alok Mishra: Aurijit, while there are many themes to write about, why did you choose Shambala for your debut novel?
Aurijit Ganguli: I have always been fascinated by the history and mythology of India and the rest of the world.  Over the last couple of years, the myth of Shambala had captured my imagination.
I also observed that the general population are not aware of Shambala at all. It does not find mentions even in the contemporary spiritual discourses. I thought I must try to generate popular awareness about Shambala.
The intense thought of kindling interest in Shambala among the mainstream readers drove me to choose this topic.
Alok Mishra: The Shambala Sutras is about the search for secrets related to Shambala. What more is there in the novel that you can tell the readers who might be interested in reading your work?
Aurijit Ganguli: This is an adventure-thriller, which shuns the usual commercial tracks and tries to provide some answers to the challenges of contemporary society. It packs a lot of interesting research inputs without being preachy.
It is a breezy read—an average reader can finish reading it in less than 5 hours.  The mood and message are couched in humour and positivity that will appeal to the readers of all ages.
Alok Mishra: You have added a few political, Historical and Indian freedom struggle surprises to your plot. Without revealing anything about those, can you please tell what inspired you to add those twists?
Aurijit Ganguli: Well, I will refrain from commenting anything at this point, as it may act as a spoiler for the readers, who have not gone through the book yet.
Alok Mishra: You come from a Bengali background, renowned for culture and literature. How do you see the contemporary literary scenario in Bengal and in India as well? Are we doing enough to justify the great past that we had? What needs to be done to make sure our narrative reaches to the global audience?
Aurijit Ganguli: As it happens in most Bengali households, I grew up reading a lot of books, mostly Bengali and a few in English. The Bengali language has perhaps the richest children literature in the world. It kindles the fondness for literature at a very tender age. And your addiction to books stays with you forever.
I was and still am a voracious reader. But I happen to read more of prose than poetry.  By the time I finished college, I had read most of the works of Rabindranath Tagore, Shakespeare, Ibsen, Thomas Hardy, Jane Austen, Charles Dickens, Maupassant, Chekov, Oscar Wilde and many more.
On one hand, I gorged on the intrigues of Arthur Conan Doyle, Agatha Christie and Jules Verne, and on the other hand, I feasted on the mesmerizing stories of Nihar Ranjan Gupta, Sharadindu Bandyopadhyay, Bibhutibhushan Bandyopadhyay and others.
Coming to contemporary writings, I do not have much exposure to the literature in any language other than Bengali and English. But I am aware that the other regional languages have treasures of rich literary accomplishments.
There are talented writers in India, who are writing both fictions and non-fictions on diverse subjects.
To reach the global audience, the content must be good and relevant to the targeted audience.  If the thoughts are original, that certainly adds more value. Next comes marketing. I think this is where we Indians lag.
Furthermore, word of mouth can also do wonders. I am at a loss to understand why the Indian diaspora across the world are so reluctant to spread the word about an Indian author's book unless the author is an NRI celebrity like Jhumpa Lahiri, Anita Desai, Amitav Ghosh, Salman Rushdie or Vikram Seth. In the non-fiction section also, the story is the same. It mostly revolves around the celebrities like Deepak Chopra, Robin Sharma or business leaders like Sathya Nadella.
Alok Mishra: Since you have written historical and mythological fiction, let's discuss a few aspects. How do you see today's attempts at writing mythological novels? Adding personal opinions, try to twist the tales in our scriptures, writing from antagonist's perspective… how do you see all these?
Aurijit Ganguli: In the last decade, a lot of good fictional works were composed in the areas of historical and mythological fiction. It has ignited a lot of positive interest in today's youth about knowing India's past traditions and heritage.
The authors do take creative liberties to add opinions and twists here and there, but those are mostly done to keep with the demands of the narrative of the book. I don't see any reason to be alarmed by this.
Authors like Ashwin Sanghi, Amish Tripathi and Christopher C. Doyle have sparked off a widespread interest in Indian English literation through their well-researched and imaginative stories. And judging by the popularity of their writings, it is clear there is certainly a demand for this genre, made globally popular by Dan Brown.
Alok Mishra: You have written this novel during the lockdown. However, the story must have been in your mind for long as the novel is too interesting, well-written and also a near-perfect debut. Tell the story behind your debut fiction.
Aurijit Ganguli: Well, as I mentioned earlier, the subject of Shambala had been in my mind for a couple of years. But I never thought of writing any book about it, till recently. It was a chance discussion with a close friend that set the whole process in motion and the book materialised.
Alok Mishra: You have written detailed instances of characters going to coffee shops, streets of the USA and other minute details about the places which might have easily been ignored and faked. Is your personal experience of travelling to many countries reflecting in The Shambala Sutras, Aurijit?   
Aurijit Ganguli: That's right. The description of the places is primarily from my own first-hand experience. I have lived and travelled extensively in the US and India to know most of those places, which are mentioned in the book.
Alok Mishra: When can we expect the second novel by you? Do you have any ideas in mind? And what are you reading these days? Also, add to the question, what story would you like to write in future – something which is too close to your artistic imagination?
Aurijit Ganguli: Actually, I don't know the answer. I had no idea that writing a book takes so much effort. The research work, planning the narrative, typing on my laptop, editing and reviewing — all were pretty exhaustive. Still, I could do it as I had no other work during the lockdown period.
As of now, I have not thought about writing anything. If at all I write my next book, it is likely to be an adventure-thriller again.
These days, I am reading Scott Adams' God's Debris and One Hundred Years of Solitude by Gabriel García Márquez
Alok Mishra: What is more important to you as an author, Aurijit – artistic freedom or the ideal message to the readers?
Aurijit Ganguli: Both.  These elements need to be balanced in a way that provides wholesome entertainment to a healthy and inquisitive mind.
As an author, I will always strive to write a book that my readers would rush to gift it to their loved ones.
Alok: Thanks for your answers, Aurijit! Wishing you the best for The Shambala Sutras!