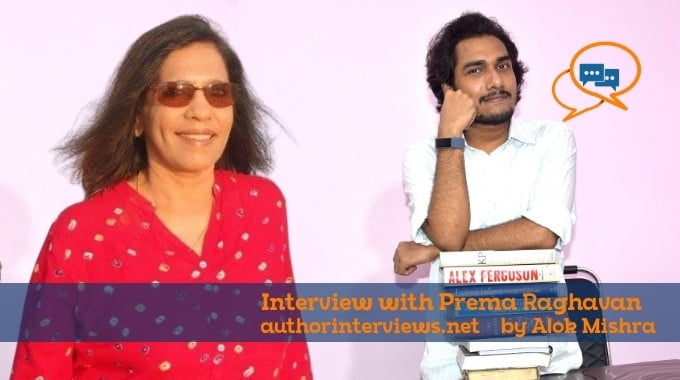 Prema Raghavan has been a professor of English literature and also a trainer. She has written many academic books for the purpose of making teaching more proficient. Recently, she has authored a short story collection entitled Eve in the Land of Kali and this interview is largely about her wonderful short story collection. However, you can also read questions about Prema's writing in general, her views on literature, Indian literature and literary figures and many other aspects. We are sure that you will like reading this author interview. Do not forget to leave a comment about this interview. Also, if you have any question that you would like to ask the author, leave that in the comment section and we will try to get the author's response to that. Enjoy the literary discourse below!
Alok Mishra: How would you describe that moment of inspiration, Dr Prema, that propelled you into writing your debut fiction book? You have been in writing before. How different was fiction writing experience?
Prema Raghavan: Well, I have always loved telling stories. I would weave stories into the teacher training programmes I conducted. In a recent programme, 'Nishta' conducted by the MHRD for primary school teachers, I used a story told in many cultures to show how repetitive phrases, in traditional stories, abet language learning. My children grew up listening to the stories I created, especially for them. I only wish I had recorded these stories. I could have published them in an anthology for children. I have used one of these stories in Mothers and Daughters.
Professionally, I was required to publish papers and books in the areas of my expertise. That left me with little time for creative writing. These stories have been in gestation for a long time and have finally made their appearance in the world. They came at their own pace; emerging when the time was ripe.
Alok Mishra: Eve in the Land of Kali – an amalgam of two cultures, religions and civilisations. Readers must be curious to know it directly from you. What's the meaning behind this title?
Prema Raghavan: Eve in the Abrahamic religions was the first woman. God created her out of one of Adam's ribs to give him a companion. The story of Adam and Eve in Paradise, the beautiful land in which they lived, is replete with symbols of patriarchy. Not only is Eve created for Adam's pleasure, but she also has no existence apart from him. The term, Eve has come to be used metaphorically to signify womanhood.  In the title of the book, Eve stands for all women who continue to struggle for identity amid patriarchy. The land of Kali is India, where Kali, the feminine energy, powerful and untameable is a Mother Goddess. The title is both provocative and ironic. Does a woman in a country which worships the conquering spirit of Kali fare any better than the proverbial Eve?
Alok Mishra: The short story collection has 12 short stories with one common thing – women protagonists. Why did you decide to have all women protagonists in Eve in the Land of Kali?
Prema Raghavan: Women bond by sharing their lives. These are stories I have heard and witnessed. The women protagonists of these stories are from various stages of life. I have evolved through most of them. I have been a daughter, a wife and a mother. I have been the love-struck teenager and also known the pain of the empty nest syndrome. The kernel of these stories lay within me, and relating them was a natural process.
While everyone has a story to tell, women often remain mute spectators. I needed to get their stories out there so that they got heard.
Alok: You come from a literary background. You must be an ardent reader as well, Dr Prema. How do you see books written by people with literary awareness compared to books produced by the writers who have a non-literary background? Also, do you think literary exposure make any impact on the final outcome of the writer?
Prema Raghavan: While the study of literature and linguistics helps one acquire greater precision in using a language, it may not provide the impetus for creative writing. Having a non-literary background does not impede writing unless you are writing on some aspect of literature. The history of literature is a witness to many brilliant writers who never went to a university.
Alok: We all know Russian masters of the short stories and, to an extent, English writers like Conrad, Greene, Hardy and a few others. However, we seldom know short story writers from India. Who are the ones you admire? And which Indian authors you admire in general?
Prema Raghavan: There are several very well recognised Indian writers of short stories. Jhumpa Lahiri won the Pulitzer Prize in fiction for The Interpreter of Maladies, a collection of short stories.  Malgudi Days: A Collection of Short Stories by RK Narayan has won international acclaim. Ruskin Bond continues to write short stories delighting and winning the hearts of his readers.
Among contemporary Indian writers in English, Amitav Ghosh is one of the best. The Shadow Lines and The Hungry Tide are both very engaging. Shashi Tharoor's The Great Indian Novel is his best and most entertaining political satire.
Alok: What are your candid views on contemporary English fiction writers and writing in India? In a broader perspective, what do you think about our representation on the global forums of writers an literary personalities?
Prema Raghavan: I have not read much contemporary Indian fiction.
On the global platform, we have Salman Rushdie, RK Narayan, Amitav Ghosh, Arundhati Roy apart from the other writers I mentioned earlier. They have won awards and recognition nationally and globally.
Alok: What are your further plans in fiction writing? Will you consider writing a novel or a poetry collection in future – near or distant?
Prema Raghavan: I write poetry, but poetry doesn't sell. For me, it is an expressive outlet and an act of joy. I have not considered publishing my poems though I have posted a few on my blog.
My next venture is a novel. It is a narrative of contemporary events, the origins of which lie buried in history. I have played with time and space in creating a world peopled by characters, I hope, the readers will remember long after turning the last page of the novel. Other things being equal it will be in the stores by the end of 2021.
Alok: Now that you have both the experiences, writing a book in fiction genre as well as writing books for academic purposes, which one do you find comfortable and difficult? What are the challenges faced in both?
Prema Raghavan: Both have their challenges. With the long experience I have in language education, I would certainly consider writing books about teaching English at the secondary and tertiary levels of education in schools. The books will help demystify language teaching after the National Education Policy 2020 gets implemented. It will require a close study of the Learning Outcomes listed at various stages and the new textbooks.
Creative writing, however, is what I want to focus on for now. For me, it is both arduous and exhilarating. The characters in my stories inhabit a world which I carry around with me. They fill my thoughts and take me on a journey of exploration that is exciting. When I am with them, I need no other companions.
Alok: As a fiction writer, Dr Prema, what is the most important thing you have in mind? You care about your own inputs or you think about the output and the possible readers' reaction to it?
Prema Raghavan: I try to tell a story as authentically as possible. I also pay attention to details so that a reader understands the context and characterisation. Beyond that, I leave the readers to arrive at their own conclusion. I do not specifically pander to any taste.
Alok: What will you tell about Eve in the Land of Kali to someone who loves reading short stories?
Prema Raghavan: In a short story, there is no tying up of all the loose ends. Life goes on. Do not judge the characters; treat them with compassion, and use your imagination to follow them in 'the ever after'.
Alok: As someone who has enjoyed a very long stay in the academic literature field for long, what would be your advice to the students who study literature and also for those who pursue literature as a career choice?
Prema Raghavan: Everyone should read literary texts. It expands the mental horizons of the reader and makes them less judgemental of others. When you walk in someone else's shoes, you know where it pinches.
Having said that, literature as a field of academic study is not for everyone. Many people regard it as an easy option, but a scholarly pursuit requires both commitment and diligence. Furthermore, unless there is a certain degree of pre-existing proficiency, in the language of the literary texts which are being studied, it becomes a mere skimming of the surface. Here as elsewhere, aptitude matters.
The team at Author Interviews thanks Dr Prema Raghavan for her answers and this wonderful interaction about her writings, Eve in the Land of Kali and other aspects of literature.