Interview with Suraj Laxminarayanan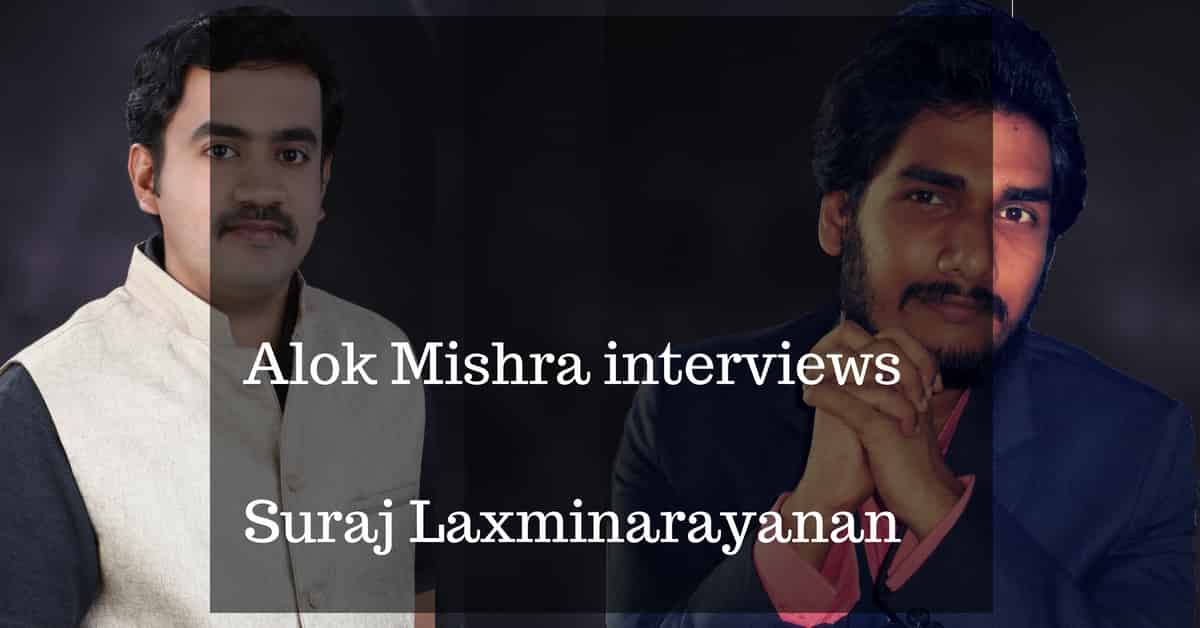 Suraj Laxminarayanan is a contemporary novelist who writes fiction for the modern audience who love reading thrillers and crime genre. His writings are focused mostly on giving the readers an opportunity to realise how does it feel being involved with a piece of fiction. His recent and the debut one, Elephants in the Room, is a testimony to his kind of writing. Suraj is also an ardent reader who often reads crime and thriller novels. 
Alok Mishra: Suraj, now that your book is going to be out in the markets, how are you feeling? How does it feel seeing efforts paying off? 
Suraj Laxminarayanan: It feels wonderful to see the book line the stands in the stores. I have only seen and purchased books by other authors as a reader so far. To stand in the side-lines and watch prospective readers observe and wonder about the book would be a memory that I would cherish for a lifetime.
Alok Mishra: How long did you work on the script of Elephants in the Room? People are talking that it took more than 2-3 years; is it true?
Suraj Laxminarayanan: The initial draft took 3 years to complete. Editing and refinement took another 3 years.
Alok Mishra: So, how did the concept of this bank heist involving three different gangs simultaneously come into your mind? Where did you get the inspiration to do it?  
Suraj L: It was in 2011 during a lonely trip from Bangalore to Chennai that this idea suddenly popped up in my mind. Travelling alone in the vehicle which was only half full with no TV or music to kill time, I loved the idea when it popped up and spent the rest of the six-hour journey working on it.
I have been interested in self-help books and the psychology of crime. Crime movies and mysteries always appealed to me. The unexpected twists and turns in the books I read and the movies I watched fascinated me. Hence, I was sure that I would write crime-related subjects. Accordingly, I made an outline for the book on that journey.
Alok: And where do you keep your novel – a thriller, a crime fiction? What do you call it for yourself, Suraj? The early readers are calling it a crime thriller and an exciting and moving novel.  
Suraj L: It is a crime/suspense thriller with comical situations. It is also a character-driven psychological thriller where fear is the recurring emotion throughout the book. I would also say that it goes beyond the regular entertainment and thrill to depict themes of leadership, teamwork, relationship building and business strategy. This is influenced by my interest in self-help books.
Alok: I have come to know from various sources on the internet that you are an ardent reader yourself and you read many novels in the thriller genre. So, who are the authors you admire and read most often?
Suraj L: I love reading thrillers and I try to read for 30 minutes every day. My favourite authors include Dan Brown, Ashwin Sanghi and Jeffrey Deaver.
Alok: How do you analyse the early response from the readers for your book, Suraj? How does it feel when people appreciate or criticise you?
Suraj L: The early response has been positive especially with the encouraging review from New Asian Writing. All the other reviewers whom we reached out to have uniformly appreciated the book and its quality. I take the positive feedback as a result of my hard work and the feedback of my dear friends and editors who helped make the book what it is today. I take the negative feedback as an area that I can work upon and hopefully remedy it in my future works.
Alok: How do you see the book market in India? As a debut author with the maiden publication recently, how tough or how easy is it for the new writers to survive in the competitive writing field?
Suraj L: The book market sales seem to indicate a preference for short and quick reads. However, I believe the Indian reader is open to all good quality literature and this is where the opportunity lies for writers. As a debut author, the most difficult part is to find a publisher and handle rejection. Like any other skill, writing can be improved only by practice and research. A disciplined approach to improving will ensure success in the long run.
Alok: So, we are just a few days away from the launch! What are you expecting from the readers? Where can they see you launch your book?
Suraj L: I sincerely hope that the readers will buy and enjoy reading the book. The book will be launched in Bangalore at one of the branches of Crossword Bookstores and Atta Galatta.
Alok: Suraj, what message do you have for the readers?
Suraj L: As I mentioned earlier, I look forward to hearing any sort of feedback from the readers. Your suggestions will help me become a better writer. I hope you enjoy the book.
Alok: And finally, I wish you all the best for your debut novel, Elephants in the Room! I wish you success, Suraj!
Suraj L: Thank you. Happy reading!