Interview with Sujith Balakrishnan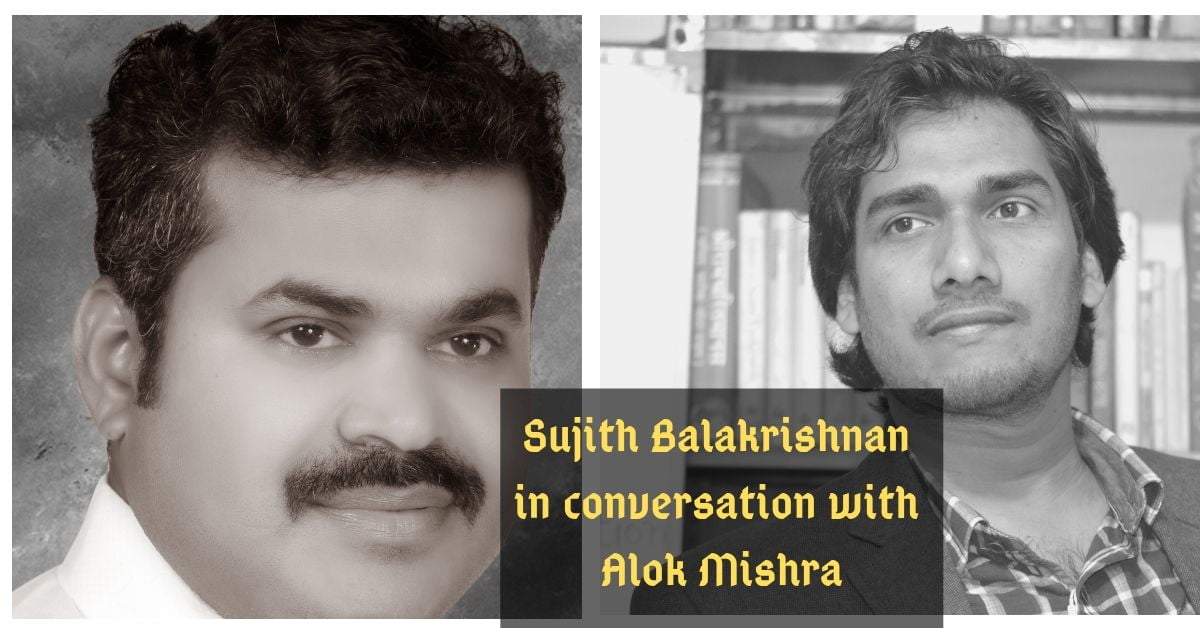 Sujith Balakrishnan is a novelist, a short story writer and a poet as well. He lives and works in the UAE in a reputed multinational company. He has recently made his debut with his novel based on a true event – the 1996 Suryanelli rape – The Chronicle of Golgotha Days. In his novel, Sujith has raised serious questions on the system of justice, corruption and humanity. He has weaved a serious fiction that not only establishes him as an author with purpose but also asks many questions of the readers.  
Alok Mishra: When did you start writing fiction, Sujith? How did it come to you? You come from an Engineering and then a management background. Wasn't it tough being creative?
Sujith Balakrishnan: I am a late starter in the arena of writing which started budding from my early twenties and became intense in the late twenties.
I always wonder, how the legends like Rimbaud and Kafka could end their literary oeuvre before their thirties enormously contributing fabulous masterpieces and living behind an opulent literary legacy that will last for centuries more to come.
Before my early twenties, my ardent passion was always towards film making which could have delayed my literary career. The ardent aspiration for writing came inside me when I moved to Muscat in 1999. Tangled up with my workload, I realized I cannot move now freely as before and the only thing which could satisfy my artistic appetite was to read and write.
Once I started immersing myself in writing, it became a kind of compulsion for attaining some unexplainable pleasure and the void of not writing makes me feel as if I am losing something treasured from my life. Now these subliming and intense moments makes me nudge and nudge in life to crawl forward.
Alok Mishra: Your first two books were written in Malayalam, two collections of short stories. How was the response of the readers?
Sujith Balakrishnan: The stories were written in a realistic genus and the themes were most of what I experienced, heard and saw.
Being a writer from abroad and a lesser known publisher, the book could reach only a few readers. But I believe for literature there is no specific time limit to reach the readers as it could reach them any point of time. The writer's duty is to write, rest all depends on the twist of time.
Alok Mishra: Coming to the latest work by you, and the debut novel, The Chronicle of Golgotha Days, how did you decide to write something realistic? You could have written something romantic and sold some copies easily! Why this different path, Sujith?
Sujith Balakrishnan: I was an engineering student back in 1996 when the event that inspired for my novel occurred. As I told before, during those days my passion was towards movie making and I used to work as an assistant director for TV shows and serials along with my engineering studies.
Like anyone, the incident shocked me and haunted me reading the umpteen cosmetic stories being published in various yellow newspapers. The sad part in such incidents, when a high profile politician is involved is that it becomes a political crime and two groups take the sides of the victim and the assailant. Ultimately the case reaches nowhere and as time passes by the victim is forgotten totally.
I never ever had an inkling that I will publish a novel after 22 years past the event.
What instigated me to write this novel 7 years back was when I accidentally watched an interview of the victim's father stating "Our generation is going to end here"? The whole family was ostracized, alienated and mocked by the whole society depriving them of justice. After going through all these griefs, a father who claims their family tree will end here is a shame to all of us, the so-called civilized society.
I started writing the novel from 2011 and it took a long time to find a clear voice to present the story. The point of view was changed so many times till it reached to the form in the published work.
Alok Mishra: You must have shared your idea and maybe the manuscript with your relatives and close friends. How were their responses to the story you have decided to write?
Sujith Balakrishnan: I shared the manuscript mostly with my friends rather than relatives. In fact, my wife knows from the beginning I was writing such a novel and she had tried all her best compelling me to choose another subject.
Alok Mishra: Overall, your novel has been praised by the top book critics in India and the readers who have left their reviews on Amazon and Goodreads. Does it inspire you to do something more like this?
Sujith Balakrishnan: In fact, I am not the type of person getting immersed in overjoy mood and carried away with that. It gives some momentary joy but not something elevating that transcends my mood. Before getting any response for The Chronicle of Golgotha Days, I am half way through my second novel and a screenplay.
I will continue writing till my end whatever be the response for my works.
Alok Mishra: As a novelist, what are the responsibilities that a person must carry? As a novelist yourself now, what do you keep in mind when writing something?
Sujith Balakrishnan: First and foremost, there should be elements of raw life in any literary work. Without life any art is worthless. It should be like a mirror which can show some reflections to the readers. I don't want to claim that the writer should always write a work with a moral and social sense, but the writer should cover all the angles of the characters even if the antagonist is an ultimate cruel master.
Alok Mishra: Can you give us some idea about your upcoming projects – the screenplay and the novel?
Sujith Balakrishnan: I am currently working on my second novel, which had already passed halfway through. It's about the middle-class crisis of a family man in his mid-thirties and an accidental event that changes their whole life. Hopefully, it should be released by the first quarter of 2020.
Along with the novel, I am working on a black comedy screenplay for my friend who will direct the movie. It's about the life of a dejected, frustrated writer who still strongly believes he could build a life by writing.
Alok Mishra: Coming to contemporary Indian literature, how do you see the current scenario? It is challenging for the authors, of course; has it become qualitative for the readers or it has just become the game of numbers – so many books but not so many stories?
Sujith Balakrishnan: There are so much of innovative happenings in the English literature especially in Indian English literature. The best part what I have observed with the new talented writers are their expertise in acquiring clarity on their writings. There were times when only absurd writings were considered as the trademark of prodigy.
Contemporary Writers like Celeste NG, Sally Rooney, and Neel Mukherjee have moved me a lot.
Alok Mishra: And at last, do tell us about your reading preferences? What genres and what authors do you like, Sujith? Is there someone you would like to imitate in terms of style and themes?
Sujith Balakrishnan: I read all genres – crime, drama, non-fiction, classics, poetry and philosophy.
I have tried my best to imitate JD Salinger a few years back but literally failed. That novel is currently lying incomplete inside my shelf.
Alok Mishra:  Many thanks for your time and answers to the questions, Sujith. I wish you all the best for your coming books!
Sujith Balakrishnan: Thank you! It was a pleasure sharing my opinions with the readers of Author Interviews.