Interview with Shilpa Raj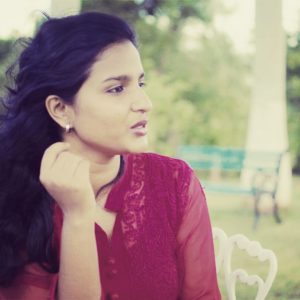 Shilpa Raj is the first-ever woman author in India, who belongs to a section of society called the 'Dalits', to write a memoir. Her debut book, The Elephant Chaser's Daughter, has won her recognition and praise for her writing skills. Documenting the history of a section of people in India, Shilpa has wonderfully summed up the story of her life, giving it a universal colour. You can order The Elephant Chaser's Daughter from Amazon by visiting the link below:
Alok Mishra: Shilpa, first of all, congratulations on your splendid debut! It must have been a happy occasion seeing your hard work in the form of a published book. How do you feel on this accomplishment as an author? And also being the first lady to write a memoir from the section of society which is still kept away of education?  
Shilpa Raj: It is very encouraging to have my first debut work published and read by many. As a young female author and the first from my community, I realize that there is so much power to impact as a writer. I have the ability to talk on issues that need to be discussed, and raise awareness. I am mindful of how I put this power to use.
I feel privileged to have been given the opportunity to rise above the circumstances I was born into through an education. I only wish many other children benefit the same way as I did. Hopefully this can be done if we have more schools like Shanti Bhavan all around our country.
Alok Mishra: I have always been thinking about one certain aspect of your writing career. I have seen authors generally making the name for themselves and then only venturing into writing memoirs or non-fictions. Why did you decide to debut with a memoir? Did you ever feel insecure if the readers might not like it?
Shilpa Raj: The idea for this book was borne when I was in the 10th grade. The residential school where I grew up from the age of four was suddenly hit by the economic meltdown of 2008, and we faced the danger of the school closing down. It was during that time of anxiety and fear that I felt a deep desire to document all the happenings in the school to preserve its story. It was out of this documentation that my book, 'The Elephant Chaser's Daughter' was born. I never thought that my first book would be about my own personal life.
It is only natural to wonder whether your book will be positively received by the world. But I fight these feelings with the thought that I did not write in fear of someone else and I will not allow myself to be put down by what someone might say negatively.
Alok Mishra: Though I already know the background of your story, it would be wonderful if you could share the story in brief about your life and the obstacles that you have shredded to become this Shilpa Raj today?  
Shilpa Raj: I was born in a poor, rural village in Karnataka called Thattaguppe. My family, like most others in the village, indulged in the trade of brewing and selling illicit liquor. My life would have been no different from theirs, filled with the hardships brought on by poverty and violence, had I not gotten the opportunity to live and study in a free-boarding school called Shanti Bhavan. I left home at the age of four and from then on my life changed forever as I began to adopt to a forward way of life compared to that my family led in the village.
This huge difference between our lives was a constant reason for fights between me and my sister who resented the fact that I had everything that she did not. I never got a chance to reconcile with her as she took her own life five years ago when she faced her own personal crisis and depression.
The chaos and suffering my family confronted were a constant reminder of what would have been my fate if I had not had the opportunity to live and study in a good school and "home." The stability provided by Shanti Bhavan gave me the strength and ability to overcome whatever challenges I faced at home.
Alok Mishra: Will you think of writing a fiction some day or you will just continue with the nonfiction genre and talk about the issues you have raised in The Elephant Chaser's Daughter?  
Shilpa Raj: As a young author, a lot of subjects, both fictional and non-fictional, interest me. I do not want to limit myself to a certain subject or topic but rather use this power that I have found through writing to build upon my authenticity as a writer and, at the same time, explore the world with its diverse issues through my pen.
Alok Mishra: I will just reframe and elaborate the question I asked; authors raise important issues through their fiction as well – R K Narayan raised, M R Anand raised, Amitav Ghosh raises and so on. What difference do you think it makes – writing a fiction vs writing a nonfiction to discuss the sensitive social issues?
Shilpa Raj: Writing a non-fiction, especially a memoir, gives credibility and realism as it's a personal story. It also carries a greater responsibility for the writer to portray his or her story in its true form without adulterating facts.
Alok Mishra: You have become the icon for many young girls who come from the socially and economically trailing backgrounds. What would you like to do for them on and off your writings? What impact, according to you, literature can make on people to make them aware of the situations we need to improve?  
Shilpa Raj: As a writer, I have a social duty and a personal one. To transcend one's poor socio-economic condition, there is no better way than through a good education. I have experienced this in my own life, and hence, I am all the more determined to help others reap the benefits of a quality education. I hope to put my training as a counsellor and an educationalist to good use by running a holistic program that caters to the emotional and academic needs of children.
As a writer, I will continue to use my voice to throw light on issues that must be discussed for bringing about change.
Alok Mishra: You have talked openly about so many things which other authors might have been shying away to discuss. What inspired you to do so? Was it the demand of an honest memoir or some seriousness was involved? I would like your honest opinion and elaboration, Shilpa.  
Shilpa Raj: I could not do justice to my memoir without being completely honest. While there is a taboo attached to discussing sexual experiences, one must not forget that it is a part of growing up and might involve sexual experimentation. After I mustered the courage to write openly about this particular encounter, I realized that by talking about it I was able to come to terms with it and move past it.
Alok Mishra: How do you see the role of Shanti Bhavan in your writing career? In your memoir, you have given a good share of the rims to your life at this school.
Shilpa Raj: Shanti Bhavan was the place I grew up in from the age of four. I have a deep sense of gratitude, love and attachment to this place because it was not just a school but a home too. In addition, this place let me grow from a little village child to a mature young adult with a clear sense of right and wrong and a strong passion to lead a meaningful life. I came to grips with my own identity here, and everyone associated with the school played a role in helping me through the process. My teachers and caretakers recognized my writing skills when I was in the fourth grade, and they encouraged me to build on it.
I found my voice as a writer at Shanti Bhavan, and now I want to put it to good use to contribute to the world.
Alok Mishra: Now that the book is done and published, people are reading it; do you think you should have not written something or you should have written something that you have missed? What would you like to add or subtract if you revise The Elephant Chaser's Daughter in future?
Shilpa Raj: There are always more things to write but within the limited space and framework available to an author in any book, one has to choose what to share. I would have liked to talk extensively about many other instances, especially of my family's experiences and what I have learnt from them. Additionally, I would have liked to reflect on my future plans.
Alok Mishra: Shilpa, you must have many things to tell to all those young girls out there who are ready to accept fate as their masters. What's the one thing you would like to say to them which could inspire them? What one motivation of yours you would like to share with them?
Shilpa Raj: I would like girls to aspire for a good future by their own making outside the restrictions of their traditional roles dictated by others. The best way to achieve this is through an education and awareness by reading.