[ultimate_heading main_heading="Interview with Ravi Dabral" main_heading_color="#1972b4″ spacer="line_only" spacer_position="bottom" line_style="dotted" line_height="1″ line_color="#1972b4″]author of Greed Lust Addiction – a philosophical and spiritual crime thriller[/ultimate_heading][ultimate_spacer height="20″ height_on_tabs="15″ height_on_tabs_portrait="15″ height_on_mob_landscape="15″ height_on_mob="10″]
Introduction to the Author: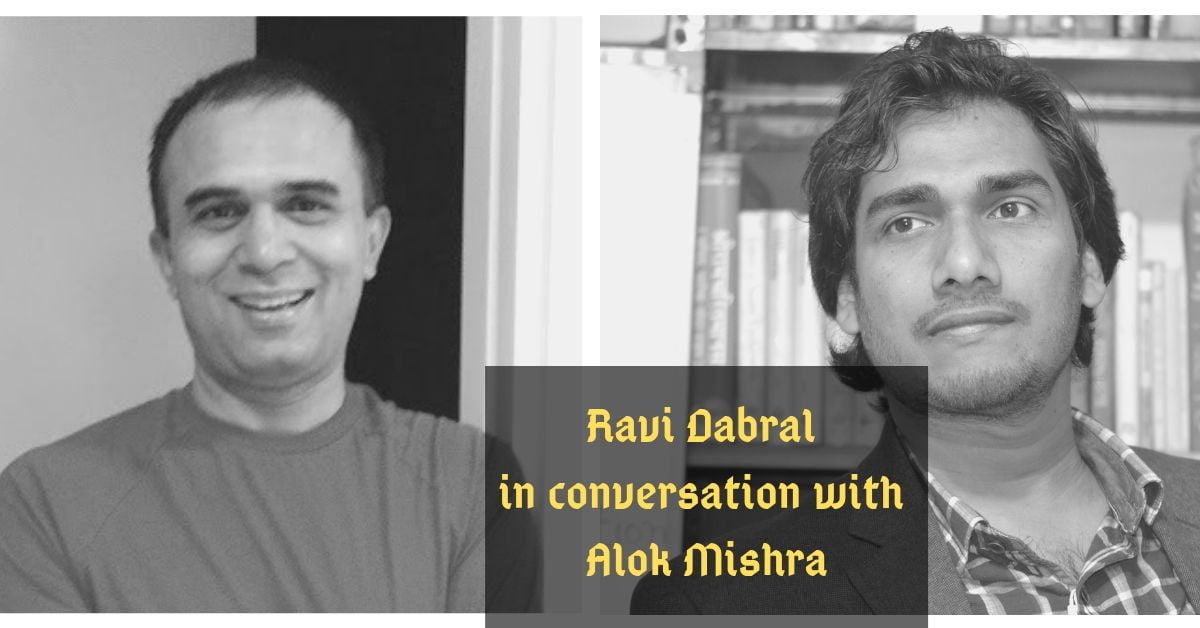 Ravi Dabral is a Singapore-based Indian author who has written two books – Greed Lust Addiction, a novel and How to Lead a Healthy, Wealthy and Happy Life, non-fiction. His debut novel has become a national bestseller. Many reviewers and book critics have appreciated the novel for its content and narrative. Ravi Dabral focuses more on entertaining and offering ideas to the readers rather than focusing only on literature for mere entertainment. He is busy in bringing the second part of Greed Lust Addiction. In this interview, he shares his ideas about literature in general, his book and his writing vision. 
Alok Mishra: A big cheers on your successful debut as a novelist, Ravi! How are you feeling after the huge response that you got for Greed Lust Addiction?
Ravi Dabral: Thanks, Alok! I am happy and very satisfied that something I wrote could interest and engage so many readers, critics and ardent book lovers. I am very thankful to everyone who helped me reach here! Now I do feel more responsible for this duty to meaningful literature. I will do my best always!
Alok Mishra: How do you see your writing career – as something that is your hobby or something more than just an interest for you?
Ravi Dabral: Before answering this question, let us consider a few aspects. As an author, I personally feel that professionals and intellectuals have a significant role to play to awaken, empower and uplift the society which is possible through two ways by developing scientific temper and through thought-provoking literature work.
Through propaganda tactics, for centuries priests, rulers, politicians and business houses killed our reasoning power and intellect. Why did they do so? Is there any conspiracy by religious gurus, preachers or priests to keep us prejudiced, stereotyped, illiterate and superstitious? Is it to keep us narrow-minded under their control in nexus with rulers and politicians, so that they can fool, rule and exploit innocent public and natural resources for their selfish motives?
Now, the time has come that intellectuals and professionals in their respective fields should come forward to aware, awake, alert and empower public at the root level of the society and economy by enhancing their intellect and reasoning power to make them free from the clutches of the politicians, priests, and business houses.
I see writing more than just a hobby, in fact, a mission for me to empower and uplift the society through literature to ultimately make this world a peaceful and better place to live in harmony with Mother Nature.
Alok Mishra: As you have mentioned spirituality as a guiding idea in your debut novel, how did your interest in spirituality arise at first?
Ravi Dabral: I have heard and read a lot about many famous international personalities such as Steve Jobs (co-founder of Apple) and Mark Zuckerberg (Chairman and CEO of Facebook). They went to Uttarakhand (known as Devbhoomi – the abode of deities and Gods and famous for yoga, meditation and spiritual Ashrams) in the Himalayas to learn spirituality under the patronage of ashram gurus and yogis, soon after which they became very successful, renowned and wealthy personalities.
I was embarrassed to know that foreigners understood the importance of the spiritual powers of gurus and yogis in the Himalayas, but despite being a native of Uttarakhand, I never understood their role and significance. This realisation was a turning point in my life and moulded me towards spirituality.
For around fifteen years I conducted extensive studies, research, investigation, and interacted with many Himalayan yogis and ashram gurus. Finally, I found the secrets to spiritual peace and material wealth, and the way to inculcate virtues and values, and how to eradicate vices such as greed, lust, and addiction.
I have realised that spiritualism can help us to develop our intellect and reasoning power to make us free from the shackles of stereotyped thinking, prejudiced mindset, ignorance and superstition. Spreading (through literature) spiritualism among masses can help to uplift, enlighten and empower ordinary people for a better society and environment.
During my stay at the ashrams in Rishikesh, Haridwar and up the hills of Himalayas, I interacted with some renowned international personalities and came to know about their real-life experiences. On the condition of anonymity, they agreed to share their enlightening experiences for the benefit of global readers and citizens. All this enriching experience became a guiding force for my debut novel "Greed Lust Addiction".
Alok Mishra: Other than spirituality at the core of your fiction, what else does Greed Lust Addiction offer according to you, Ravi?
Ravi Dabral: The novel Greed Lust Addiction offers suspense, thrill as well as many interesting twists to the readers. It is a document with many leaves and the readers are free to choose what they want and with what they want to relate or associate. For example, those who love reading a crime thriller novel will always associate themselves with Suraj as a hero who unfolds the syndicate of crime. The readers who want to see our past and able heroes guide us in the fight against evil can associate with Guru Ji and those who want to see a change of heart can always find their hero in Vijay. So, as a reader, you will certainly find many things in the book.
Alok Mishra: Is there any second part of "Greed Lust Addiction" in your mind? What will be your next writing project?
Ravi Dabral: Yes, the second part of "Greed Lust Addiction" is coming soon. The plot of the first fiction novel was based in India. In the second part, the plot will shift to international level, and mysteries of the material and the spiritual world will be investigated and exposed to Indian and global readers in an entertaining, engaging and enlightening way.
Alok Mishra: What is your philosophy behind writing fiction – to entertain the readers or to pass a message?
Ravi Dabral: In my opinion, fiction not only entertains but also enlightens readers in an engaging way. In today's social media world where smartphones, television, internet and online social media channels or platforms are replacing a reading habit, it is a challenge for the writers to keep readers engaged through their writings.
Scientifically it is proved that reading a book makes our brain and senses more stimulating and powerful as while reading our brain start making images of the scene or situations using all six senses. Reading makes us more knowledgeable, intelligent and enriches with the experiences of many topics and viewpoints of authors who accumulate experiences and share with readers in an entertaining, enlightening and engaging way. By reading books, our brain makes images using our senses while by watching Television or Cinema and videos on smartphones, the audience sees images which harm brain stimulation, concentration, imagination, analysis, memory, reasoning and intellect powers, health and personal life.
Through my writings, I want readers to develop reading habits and have an incredible and mesmerising experience through the exciting stories which have a lot of twists, conflicts, romance, drama, suspense, mystery, thrill, and so on, so that it not only fascinates the readers but also motivates them to live a virtuous and stress free life.
Alok Mishra: What does literature mean to you, Ravi?
Ravi Dabral: To live a happy life, two types of developments are required in the society; firstly, propagation of scientific temper and secondly, mental development. Scientific progress helps in living a safe, comfortable and convenient life. Mental development helps to apply intellect and reasoning power to live a life without any prejudices, stereotyped mindset, superstition, illiteracy, etc. and in this regard, literature helps in a significant way.
Literature makes us an open-minded, rational and logical person in an entertaining, engaging and enlightening way. In a way, literature removes all animal instincts from a person to make him a civilised person to live peacefully with the motive to live and let others live with their ideologies and lifestyle progressively. In my opinion, scientific temper and literature can play a vital role to make this world free from the clutches of stereotyped mindset, corrupt politicians and greedy businesspersons thus a better and safer place to live in.
Alok Mishra: Many readers have hinted that your novel reads like non-fiction at times. It takes them into the depth of Yoga and philosophical and spiritual questions. How do you respond to this?
Ravi Dabral: As I have said earlier in one of my answers, Alok, I have given ample space for the readers to associate with the ideas they like. Yes, my inclination towards Yoga, Dhyan, Spirituality and Philosophy can easily be sensed in the narrative of Greed Lust Addiction. That is only to make the readers aware that even in this age of hectic schedules and chaos, one can practice and master self-restraint and the art of leading a life that's content and happy. And this notion also settles well with the theme of the novel as Suraj is filled with colours of revenge which Guru Ji senes in him and advises him to control his emotions. So, this is it and I am sure readers will like the details. They have been reading fiction based on templates recently; let them read something different.
Alok Mishra: Many thanks for this interesting and energetic and frank conversation, Ravi! I wish you the best for your future publications!
Ravi Dabral: Many thanks, Alok! It was a quite interesting and refreshing experience. I am sure I will keep you interested in my publications to come. All the best!