[ultimate_heading main_heading="Interview with pj johnson, Yukon Poet Laureate" main_heading_color="#1972b4″ spacer="line_only" spacer_position="bottom" line_style="dotted" line_height="1″ line_color="#1972b4″]about her journey as a poet…[/ultimate_heading][ultimate_spacer height="20″ height_on_tabs="15″ height_on_tabs_portrait="15″ height_on_mob_landscape="15″ height_on_mob="10″]
Introduction to the Poet: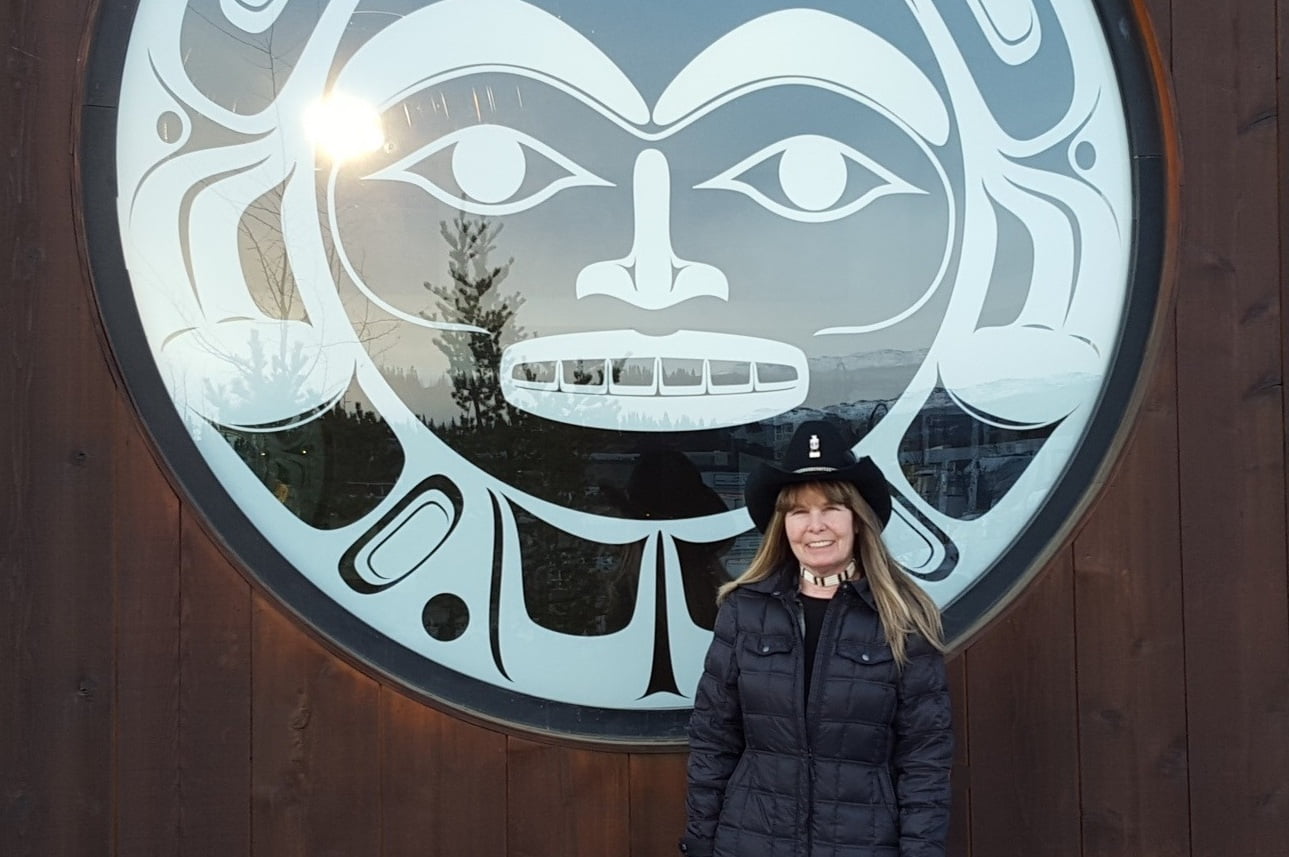 pj johnson is the first official invested poet laureate of Canada; on the occasion of Canada Day, July 1, 1994, pj johnson was officially appointed the poet laureate of Yukon and still decorates the regarded post. She is a well-known poet and musician, singer and performing artist, playwright and animal rights activist… a multi-talented woman, pj is also known popularly as The Yukon Raven Lady. Read more about her on her website:
Alok Mishra: Let's get it straight, pj. You have been into poetry for decades now. How do you feel today? When you look back at where you started, how would you recall your journey?
pj johnson: My childhood was an abusive one and although I managed to survive much adversity in my youth I never dreamed that one day an eighth-grade elementary school drop-out might become the first official poet laureate in Canada.
Growing up in a foster home in a dysfunctional atmosphere you learn not to say what you think, not to express your feelings. You keep your thoughts to yourself. I think my tremendous urge to be creative is a survival technique I learned early in life; you can go anywhere you want, in your mind – say what you want to say, be who you want to be.
As a child, I remember my Grandpa reciting "The Cremation of Sam McGee". That was my first exposure to poetry. Later, when I was in my twenties my artist friend Jim Robb once said to me, "Hey you know your little brother and sister were raised out on the trap line – that's unique. Have you ever thought of writing a poem about it?" so I gave it a try and I wrote a poem called "Dibs and Ribs" that I also ended up reading twenty years later on live national television.
At some point, I decided to put a little book together on my kitchen table and CBC invited me to do an on-air interview to promote it. They also wanted me to read one of my poems and I was horrified at the thought of reading my own work in public so I had an actor friend read it for me. I watched her as she read my poem, completely taking on the character and persona of the piece, and was so impressed I also became an actor and a playwright.
On Canada Day, July 1st 1994, I was formally invested by the queen's representative during a ceremony in Whitehorse and became the first official poet laureate. This year on Canada Day July 1st 2017, as my country celebrates its 150th year of confederation, I will also celebrate my 23rd anniversary as Yukon Poet Laureate.
Alok Mishra: You have books published in the days when there were no social media. And today, you are into writing amidst all the social platforms. What difference do you think the internet has brought in the field of creative writing?
pj johnson: Today's world is vastly different from when I started out, particularly for people like myself who live in isolated areas of the north. When I wrote my first book in 1984 people warned me, "Poetry doesn't sell!"; even so 5,000 copies somehow disappeared, most of them selling at Expo86 in Vancouver B.C. However if the internet had been available not only would it have been easier to write and publish a book, it would have been much easier to promote and sell it.
Living in a remote area at a time when there were no computers or internet it was difficult to gather information or do research with only a small public library as a main source of reference. My first thought was always to find a way to preserve and share my creative work.
With the coming of the internet a whole new world has opened up; basically all of the recorded literature is now at my fingertips and if I happen to have a question all I have to do is 'Google it'. If I want to share a poem or a song I can simply post it online and I can also network with artists from around the world and participate in various creative groups.
Another big plus for me personally as a person living with a disability called Nonverbal Learning Disorder (or NLD, which basically means that I simply do not learn by reading) is having online access to audio and video clips that allow me to gather information more effectively. You can read more about my journey to cope NLD at: http://www.yukonpoetlaureate.com/about-my-nld-/
Alok Mishra: How do you see poetry? For pj johnson, the poet, what does poetry mean? For pj the reader, does this meaning change?
pj johnson: Surviving the nightmare of my youth was never easy. From a young age my greatest joy was to lose myself in anything creative. I was mesmerized by the poems of E.E. Cummings, Dr. Sous, and A. A. Milne. Their words sparked my imagination and took me to wonderful places. It was as if I'd discovered a haven – a sweet escape, and that is when I first fell in love with words.
Early on I learned to channel my emotions into my creative work, perhaps as a kind of survival technique. Later as I began to explore the works of major poets I found myself being drawn in by the pure imagery, strength of passion, and mastery of storytelling inherent in their works and I was greatly inspired by the sheer power of their words. I was also fascinated by the idea that it seemed to take very little to become a poet – all I needed was an HB pencil and the back of an electric bill – and that is precisely how I wrote my first poems.
Alok Mishra: You come from the Canadian literary fraternity. Yukon, your place, has seen the likes of the Bard of the Yukon – R W Service and poets like Leonard Cohen also come from Canada. Where do you see yourself in the golden line?
pj johnson: I don't really see myself there. For starters, I tend to think of myself as more of a storyteller who happens to write poetry than as a poet. Also being an eighth-grade dropout with a learning disability, I don't feel I'm on their level. The formal education is missing.
I sometimes think that because I am a poet laureate people somehow expect me to be the next bard and write in rhyming verses like Robert Service when in fact we couldn't be more different. Although I greatly admire his work, Service was not actually a Canadian but rather an enterprising English poet who spent a couple of years north of sixty and mined the Klondike gold rush for all it was worth. In a way, he put the Yukon on the map.
At times, I almost feel as if I became a poet by accident. I used to feel quite self-conscious due to my lack of formal education. In 1993, I was invited to participate in a writer's conference along with a few eminent Canadian authors and at one point I was honoured to share a glass of wine with French Canadian author Roch Carrier who seemed quite enchanted by my literary efforts. Feeling somewhat in over my head, I confided to him that because I was not particularly well-read and had no real formal education in the literary arts I felt like something of an imposter. Without missing a beat, he looked me straight in the eye and said firmly, "Forget about well-read! Just be yourself!" I never forgot that.
I don't try to compete with or to be like other artists, I simply strive to be the best version of me that I can be. I am a product of the Canadian north. My strongest influence has come from northern culture and the very land around me has influenced and moulded me as an artist. My works are often Yukon-flavoured with strong overtones of the Canadian north in a style I call Canadian Sweetgrass®. I am a proud Canadian and it shows in my work.
Alok Mishra: You have always been vocal about the animal rights. A cause that any sensitive person on the earth would surely support. However, in the context of art, how much do you think that writers and poets can make a difference? How can they contribute to animal rights protection?
pj johnson: Artists can always make a difference. We are the spokespeople. We have a platform. When artists speak the world listens. In the past artists have shone the spotlight on important issues and championed noble causes such as the group that recorded "We Are The World" in 1985 and raised $63 million to alleviate famine in Ethiopia. The arts have a way of capturing our attention, our imagination, and our hearts, making us somehow more empathetic and allowing us to care. Sometimes the artists are the only ones who are willing to stand up and speak out.
As a child growing up in an abusive foster home animals were my only real friends. They gave me love at a time when I desperately needed it. No one ever came to my rescue and perhaps that's why today I care so deeply about exposing the truth about the plight of thousands of defenceless sled dogs who are being heartlessly abused and exploited. I want to be there to rescue them.
I care passionately about these precious animals and when I care passionately about something, I tend to pick up my pen. As writers, poets, and artists we are in a position to speak for those who have no voice and let the world know what's happening. There is always something we can do to make the world a better place.
http://www.yukonpoetlaureate.com/long-distance-sled-dog-racing/
Alok Mishra: Coming to your reading habits, pj, who are the poets who have inspired you to write? Which poets you like from Canada and outside Canada?
pj johnson: Although my reading habits have been greatly curtailed by my reading challenge I've managed to explore a few of the greats like Tennyson, Shakespeare, and Thoreau, and also poets like Dylan Thomas, Charles Bukowski, and Erica Jong. In the terms of Canadian poets, I enjoy E. Pauline Johnson, Leonard Cohen, and Gordon Lightfoot.
Some of my favourite poems include "Ulysses" by Lord Alfred Tennyson, "The Dying Eagle" by EJ Pratt, "David" by Earle Birney, and "Still I Rise" by Maya Angelou. I might add here that I have also been greatly inspired by the works of some very bad poets and writers who left me thinking I could probably do much better. – That's how I became a playwright.
Alok Mishra: This is a broader question, pj. When we talk about global literature these days, we get to know different ideas and versions of the idea. What do you think global literature is? And is it bigger than American literature, Indian literature, Canadian literature etc.? Where do you stand on this?
pj johnson: Literary forms are constantly evolving and surprising us in the most delightful ways. I believe the spawning of global literature is a direct result of the age of the internet. I see it as an all-inclusive blossoming and blending of ideas, cultures, and creative expression. It's all about the human condition presented in an endless cornucopia of styles, forms, and genres that I find fascinating to observe and be a part of. When I think of the term 'Global Literature' the lines on the map begin to fade.
I believe the works of William Shakespeare remain alive and relative today, not only because they were written in beautiful archaic verbiage, but because he wrote about the one thing hasn't changed in four hundred years – the heart of man. As artists and writers, we are forever endeavoring to find new ways to express what is in our hearts. I look forward to the next innovation.
Alok Mishra: And this is a sort of inquiry, not a question. What's the impetus behind your poetry? When do you write a poem? Why do you write? Please tell me.
pj johnson: There are many reasons why I write. I write when my life is on fire and I'm on top of the world. I write when I'm on my knees and my heart is broken. I write to transcend adversity and I write about things I feel strongly about. I write because I have to. It's that strong in me. At times, it's like a kind of prayer. At other times a kind of therapy.
I wrote the song "Howlin' Time" at a time of great loss in my life. It's actually quite autobiographical and composing it was cathartic – I literally lived the lyrics. On the other hand, "The Birthday Man" is an outrageously funny performance piece that I was inspired to write based on my own personal experiences as a single woman.
When I feel strongly about something, I write. I once wrote an impassioned letter to the local newspaper petitioning the government to allow the inclusion of the northern raven as a choice for the Yukon's official territorial bird symbol. Nine months later, after much-heated debate, Bill #12 "The Raven Act" was passed in the Yukon legislature and the northern raven became the Yukon's official bird.
Sometimes I write to tell the world, "Hey I survived this stuff – you can too!" and other times I write to champion the underdog. I recently wrote a poem called "Because I am a Sled Dog" as part of my campaign to expose the inhumane abuse of sled dogs inherent in long distance sled dog racing. http://www.yukonpoetlaureate.com/a2017/
I never write just for the sake of writing – I'm not one of those poets that can just sit down and churn it out endlessly. I would rather compose a handful of serious pieces than a bookful of mediocre. In the end, indulging in artistic expression and sharing it with others is my way of connecting with the world around me. It is for me the heartbeat – the very breath of life.
Alok Mishra: Have you ever tried your hands at writing a novel? In the terms of delivery of the thoughts, which medium you would prefer, pj, novel or poetry?
pj johnson: In terms of writing a novel I am deterred by the difficulty I have in dealing with large blocks of text. For me as a writer, working with text is a necessary evil and at times even attempting to read my own creative work can be a gruelling ordeal. In the end, it's a labour of love.
Over the years, I have composed works in a variety of artistic styles, genres, and mediums, so picking a favorite is hard. Although I am a poet I tend to define myself primarily as a storyteller. I am also a musician, composer, playwright, photographer and performance artist and I often mix these mediums in order to 'tell the story'. I tend to allow the emotion of a piece to dictate to me the style in which it will be written so that at times a poem might decide to become a song or a piece of music might inspire a poem.
I have also written and performed stand-up comedy and in 1992 I was commissioned by the Canadian government to compose and perform a stage play for the National Gallery in Ottawa. I never limit myself to just one medium. Art is the last great freedom – the colours on my palette are infinite.
Alok Mishra: An objective consideration on the condition of poetry in modern society – where do you think poetry is today in the society? Where do you think poetry is heading?
pj johnson: I see poetry as an ever-evolving art form. It's all about the word and you never know where it will take you. The creative arts are interconnected and I tend to embrace a broader definition of contemporary poets and poetry that includes poetry presented in traditional text as well as orally, in performance art, and in music – lyrics after all are simply poems put to melody.
Not long ago the word 'poetry' might have conjured up more than a few yawns, however today's modern poets are an exciting blend of writers, slam poets, spoken word artists, and rappers who are continually bringing fresh new ideas and interpretations to the table. As a result, the art of poetry is not only gaining in popularity but developing a kind of hip-nerdy-swag that appeals to a younger generation.
Alok Mishra: Thanks for your time and answers to the questions, pj. I wish you success in poetic field and also wish more power to you for the cause of animal rights! Great talking to you always and look forward to further future interactions with you.
pj johnson: Always a pleasure my friend Alok. Thank you for inviting me. You've asked some interesting questions! I wish to invite your readers who care about animal welfare to read about the abuse of sled dogs at: http://www.yukonpoetlaureate.com/long-distance-sled-dog-racing/ and also to follow the hashtag #BanIditQuest on Twitter. I welcome everyone to join me at: http://www.yukonpoetlaureate.com/ to learn more about the Yukon and view my creative works. -Don't forget to sign the guestbook! Again, thank you Alok, I look forward to the continued sharing.